Blue and white remains a popular color combination for kitchens and home decor, bringing a fresh feel to any room in the house. Blues can be deep navy or faded blue, and whites can range from bright to ivory or creme. Themes can include blue and white tile art, stripes, polka dots and more.
Bring A New Mood To Your Room With A White And Blue Color Combination
Colour isn't everything in home decorating, but its an element of design that you simply can't ignore; even if for you, colour is white and black or cream and other neutrals – thought and how you use these colors together is oh so important.
We will be looking at different colors and giving advice on how they can be used successfully in your home decor. We will be giving quick and simple tips to get the job done in good time – bring a new mood to your room, enhance a period style or be right on trend; do all of this and more with just a touch of color! First up is white and blue in combination – it makes us think of classic coastal decor, blue and white pottery, fresh country homes and more. How would you use white and blue in your decor?
1) Add white and blue striped slip-covers for a fresh look in living rooms or conservatories. If your room is predominantly white then you are at an advantage with this quick update. Although a simple pattern like this one can be used amongst other patterns and won't look out of place with one other color such as red or green.
2) Look for tiles with a blue and white print that is faintly reminiscent of the Mediterranean. They can be used for flooring a section of the patio in a mosaic style or try them on a section of wall in the dining room for a real laid-back atmosphere. A separate collection of blue and white china on display will carry the look further. These tile will also look lovely in a country style bathroom as a back-splash.
3) A lounge or bedroom that is mostly decorated in white or with washy colors, can be given a whole new look with a focal wall in navy or midnight blue. It will make your white furnishings that much brighter and stunning – you might never look back! Add touches of the same blue in accessories around the room.
4) Bored of white curtains in a bland space? Get crafty and dip dye the bottoms in indigo dye for a clever update on a budget. This will look even better if you have painted white floorboards for a fresh, beach vibe. Bring in a second, lighter blue for more interest with floor rugs or a statement chair. Alternatively, buy cheap blue curtains for a more sophisticated look in bedrooms, dining rooms or the lounge curtains.
Curtain Wizard specialize in the distribution of ready made curtains, made to measure curtains and eyelet curtains. View the full range of Curtains on the Curtain Wizard website…
My Collection of Blue and White Designs
A fun collection of antique and modern designs on mugs, clocks, custom stationery and more
Blue and White Faux Delft Tile Decor, Stationery, Clocks and Coffee Mugs
Blue and White Faux Delft Tile Pattern Home Decor, Stationery, Clocks Mugs and More…
by Mom's sister site
AngelCityArt
Blue and White Basket of Flowers Rustic Etching
Rustic block print art of a basket of flowers, with vintage and script fonts in blue and white on custom invitations, baking labels, small business supplies and more.
Blue and White Holiday Pine Invitations and Decor
A holiday pattern of blue and white pine branches and pine cones from a vintage etching on custom holiday party invitations, decor and more.
Blue and White Vintage Milk Jug Etching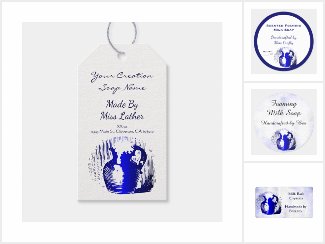 Blue and White Vintage Milk Jug Etching
Next Page: Kitchen Decor: Collectibles
Previous Page: Kitchen Decor: Retro Aprons, Recipe Binders, Totes and More