y C
My Retro Kitchen Aprons, Tote Bags,
Fridge Magnets, Recipe Binders and More!
My Collection of Retro Kitchen Aprons
Custom Retro Recipe Binders
Keep all your favorite recipes organized with a unique custom organizer
Custom Retro Grocery and Tote Bags
Custom retro and new totes for groceries or organizing the car
Custom Canning Labels
Canning or sauce labels for crafty cooks with unique designs
you can customize and save for later!
My Collection of Retro Kitchen Towels
Retro plaids and mod modern patterns, antique art tiles and more to go with your retro decor!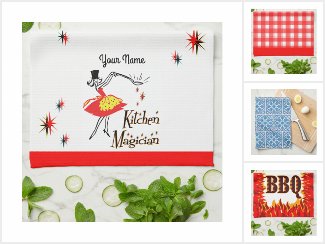 New and Retro Kitchen Towels
From Mom's Retro Zazzle Store
Next Page: Kitchen Decor: Blue and White Designs
Previous Page: Kitchen Decor: 1970's Designs